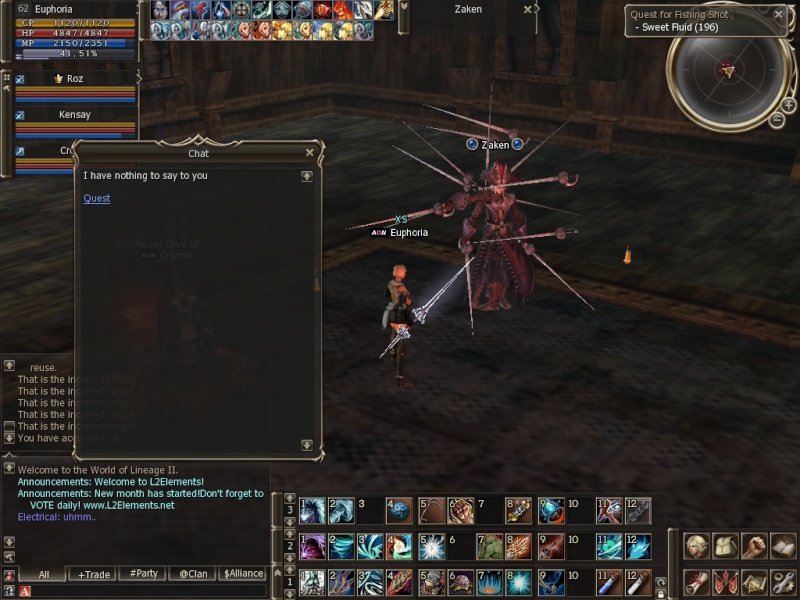 PLS FIX BUGGS FROM ZAKEN : I FAIL 5 TIMES AT ZAKEN .... 4 times texture fail and 1 times zaken was NPC .. NO hp... you can see
Staff asked for patience from us.
How much patience exactly????????
What time of day (in game) were you fighting it?

Probably a dumb question, but since Zaken changes depending on the time of day, maybe you weren't trying at the right time... You do know that you have to wait inside like 1-2 hours to kill it, right?

Just my guess... Ofc, DaTa needs to look into it.

---
~Rj
=)



Posts

: 97


Join date

: 2010-03-28


Age

: 33


Location

: USA



Night or Day Zaken isnt involved in a quest. So that theory falls.
Ofc he was there at the right time.
I was there at 6 10 AM GAME TIME

so think again
when data can fix textures from zaken and more bugs from his boat ?? please fix it fast
Zaken is now fixed, mostly. The Zaken NPCs are still there and need to be deleted, but there is a real Zaken also. Just ignore the fake ones and kill the real Zaken as usual. Have fun!



Posts

: 32


Join date

: 2010-06-17



ic it now =))))))))))))))))))))))))))))))))))))))))))
LOL maybe because all the Zaken al over the towns HAHAHAHAHAAHA



Posts

: 32


Join date

: 2010-04-05





Similar topics
---
Permissions in this forum:
You
cannot
reply to topics in this forum